Mexican Baked Eggs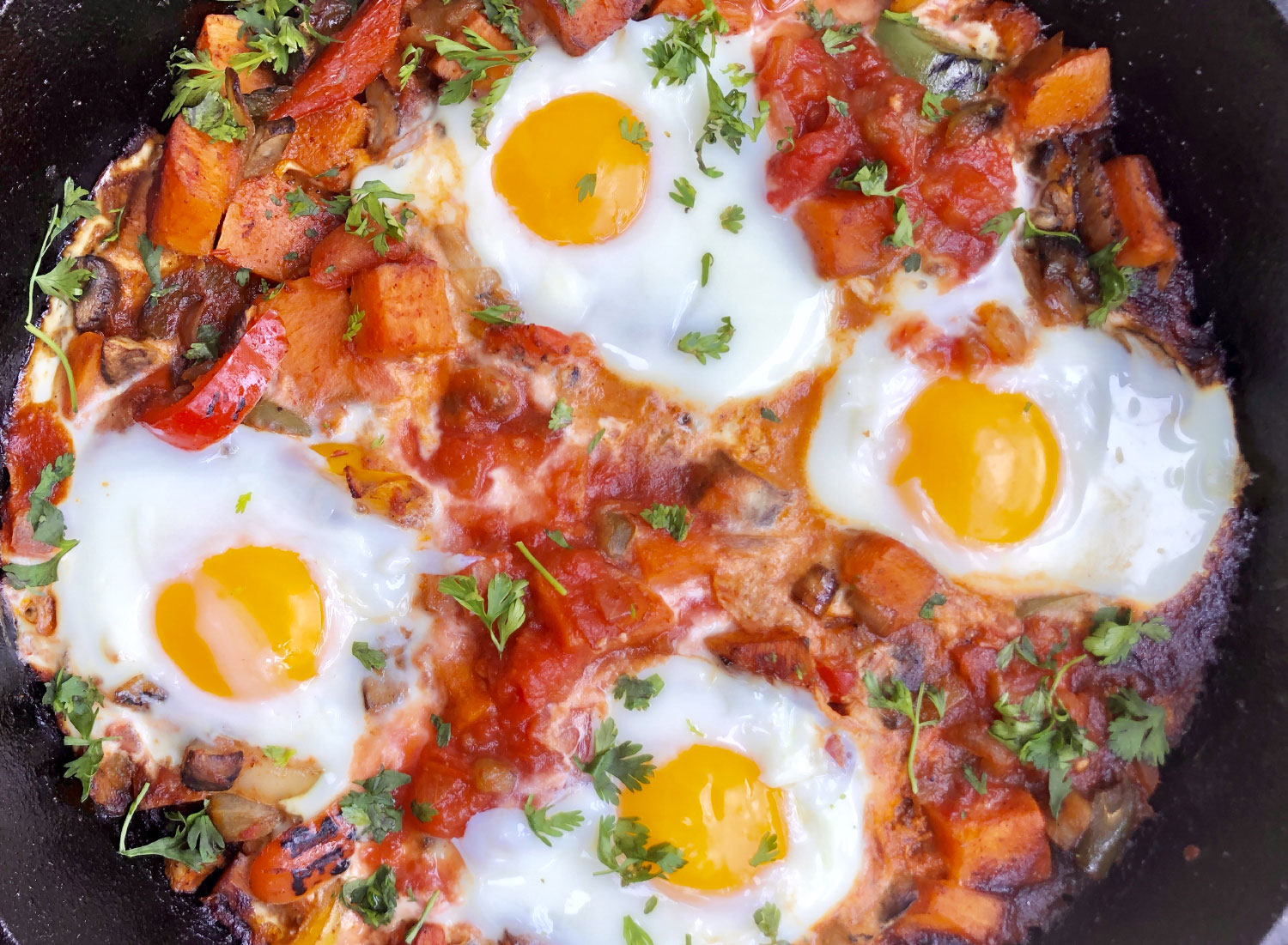 Mexican Baked Eggs are cooked in one skillet and make a delicious dinner! Low calorie and high protein, it's the perfect healthy meal.
1/2large jalapeno diced
1small onion finely diced
1tsp olive oil depending on the pan
1/2tsp ground cumin
1/4tsp chili pepper
15 oz. can Fire roasted diced tomatoes with juice (do not drain)
115 oz. can black beans rinsed and drained well
14 oz. can diced green chiles
6large eggs
2ounces colby jack cheese, shredded
whole wheat/corn tortillas for serving
chopped cilantro or chives for garnish,if desired
sour cream or greek yogurt for garnish,if desired
Heat olive oil in a pan with deep sides and saute onions and jalapenos 2 minutes. Add ground cumin and chili pepper and saute 2-3 minutes more. Add diced tomatoes with juice, black beans, and diced green chilies to the pan and let cook at very low simmer for 15-20 minutes, or until the mixture is slightly thickened.

Using the back of a spoon, make an indentation in the mixture, and crack an egg into the little pocket. Repeat around the pan with all eggs. Spoon the rest of the mixture around eggs, avoiding the yolk.

Place skillet (ovenproof or cover handle with tin foil) in oven for about 5 minutes, or until the eggs are starting to look set but are still fairly wet looking. Remove and change oven to broil (Be careful not to burn yourself!)

Sprinkle cheese over the top and place under broiler for 1-3 minutes, or until the cheese has melted.

Be sure to remove while egg yolk is still soft. If you don't like runny eggs, cook 2-3 minutes longer (it is still very good this way).

Serve hot, with whole wheat flour/corn tortillas to dip into egg. Also good with salsa and sour cream or Greek yogurt on top!