GPC takes food safety to a higher level with ISO 22000 certification
GPC takes food safety to a higher level with ISO 22000 certification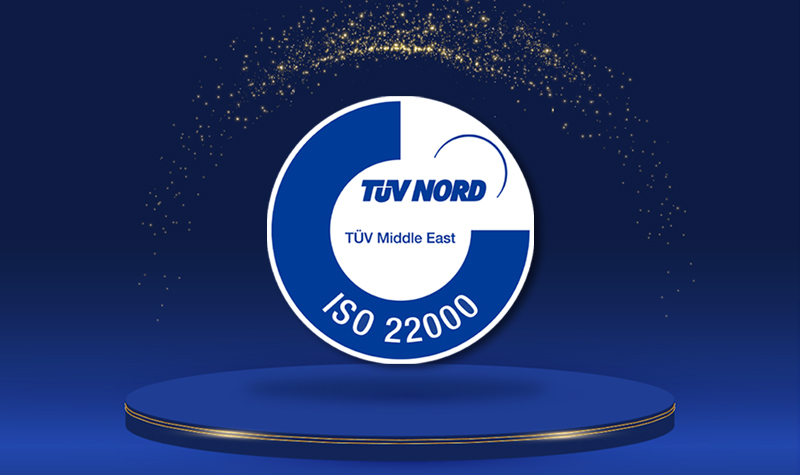 General Poultry Company (GPC) joins a select group of poultry egg production and farming companies worldwide that have reached advanced standards of food safety set by the International Organization for Standardization (ISO).
The only poultry egg producing company in the Kingdom of Bahrain that has been awarded this coveted stamp of quality, GPC was audited in by TUV Middle East for compliance with the new standard of Food Safety.
Mr. Wael Itani, CEO, GPC said, "the decision to achieve ISO certifications was taken in coordination with GPC's Board of Directors in 2019 to guarantee quality and safety at all stages of our production cycle from rearing to laying to storage and delivery. The successful achievement of ISO 9001, ISO 14001, ISO 450001 and ISO 22000 certifications marks a groundbreaking achievement that puts GPC at the forefront of food safety in the Kingdom of Bahrain".
For certification purposes, GPC selected TUV Middle East, the region's leading inspection, verification, testing and certification company, as the certification body.
Dr. Aneez Azeez, Manager – Farms Operations adds, "Audits by independent certification bodies help identify achievements of an organization and focus on further improvement of business processes. The ISO 9001, ISO 14001, ISO 45001 and ISO 22000 certifications demonstrate GPC's commitment to the welfare of customers and in managing and eliminating food safety hazards. Every part of the poultry egg processing and production cycle – including hygiene, cleanliness, animal welfare, storage, distribution and training – conforms to ISO standards."
"It took nearly two years to prepare for the assessment and classification to be granted by TUV Middle East".
Mr. Wael Itani adds "Food safety is a growing concern of the people of Kingdom of Bahrain. GPC has a responsibility to ensure the eggs produced in our farms meet the highest standards of quality and food safety"
"The availability of the ISO quality and food safety management systems certified to international standards will be a significant competitive advantage boosting our expansion implementation. Focus on the quality of our products and competent customer support is the key point of our strategy. We know that our customer's needs are driven by high safety standards in the food industry. And we do our best to meet their expectations".